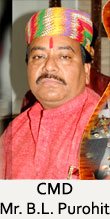 SHREE RAM PRODUCTS PVT. LTD. WAS STARTED BY MR. B. L. PUROHIT IN THE YEAR 2001. A QUEST FOR PERFECTION AND THE PASSION FOR CONSTANT IMPROVEMENT BY M.D. MR. PRADEEP PUROHIT HAS LED US TO BE ONE OF THE LARGEST MANUFACTURERS OF INCENSE PRODUCTS WITH A PRODUCTION UNIT OF OVER A SEVEN HUNDRED MEMBERS STRONG TEAM. :: COMPANY STRENGTH :: • SERVICE • QUALITY • INNOVATION • PRICING • REACH • INTERACTION :: KEY DRIVERS :: • RESEARCH • CREATIVITY • EXCELLENCE • QUEST FOR PERFECTION • INNOVATION • CONSUMER NEEDS.
SHREE RAM PRODUCTS PVT. LTD. IS ONE OF THE LARGEST MANUFACTURER OF RAW INCENSE STICKS (BAMBOO STICK, JIGET, CHARCOAL, WHITE CHIPS ETC.), HAND MADE INCENSE STICKS, HAND CRAFTED STICKS, FLORA, FLORA NATURAL INCENSE, MASALA INCENSE, DHOOP BATTI, DHOOP INCENSE CONES, DHOOP STICK ETC… OUR SISTER CONCERNS SHREE RAM MATCHES COMPANY – SAFETY MATCHES MANUFACTURING UNIT. NEERAJ FOODS – MANUFACTURES PICKLES OF VARIOUS TASTES.
MANAGEMENT
Our Management is modern and professional. Our advanced production systems make us a non polluting enterprise. We promote and advise our suppliers to use eco friendly materials and methods. We actively promote new entrepreneurs to set up ancillary units and encourage women empowerment. We enjoy good relations and reputations with financial institutions and our suppliers and vendors. Shree Ram Products Pvt. Ltd. is an equal opportunity employer. All our employees are entitled to the statutory benefits and best in industry remuneration. We have one of the best employee retention rate in the industry.
MANUFACTURING
Manufacturing a product that has a history of thousands of years, using modern and scientific manufacturing methods is a challenging task. At Shree Ram Products, we have not just successfully met this challenge but also have been constantly setting new benchmarks when it comes to the manufacturing of incense.Our manufacturing unit and office provide clean, comfortable and ambient work environment to our employees.
QUALITY
At ShriRam Products quality control is not just limited to the quality check and standards for the final product. We have quality control embedded at the core of all our business processes and transactions like:
Procuring raw material
Transportation
Storage
Processing
Manufacturing
Packing
Ware housing
Logistics
Retail Display
Management of Communication, Queries and Complaints
Relationship with stake holders